Davison Black Electric Guitar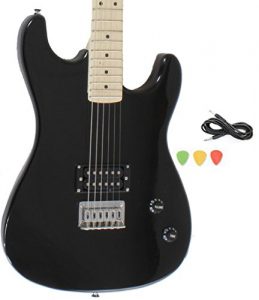 ---
In Stock
See Special Price
$139.95
---
We are impressed with this full size Davison Black Full Size Electric Guitar and we believe you will be too, asd it is perfect for anyone looking to start playing guitar on a budget.
This is a full scale guitar but is great for almost any age – from the young aspiring guitarist to the adult looking to rekindle a connection to music. It has a beautiful high gloss finish, and it comes with a guitar cable and picks and is compatible with any guitar software or gaming system and can be used with any guitar amp.
There has never been a better way to own a quality 6 string electric guitar. At this crazy low price, there is no reason not to start playing today!