Dean E09M Edge Bass Guitar, Mahogany Finish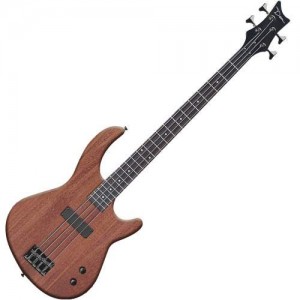 ---
Get The Best Deal
See Special Price
$249.08
---
It is often said the "beauty is skin deep," but the Dean Edge Bass is clearly and exception. While beauty was the inspiration, Dean put every bit of their 20-plus years of design experience into these models.
Starting with a body styled and contoured for comfort, made lighter through the use of choice basswood. The maple necks were profiled to be faster and sleeker than virtually all others. Dean designed a "uniquely Dean" custom neck joint and heel along with their asymmetrical four-bolt pattern, creating uninterrupted access all the way up the two octave neck.
The Dean E09M Edge Bass Guitar is offered in four, five and six string models. Experience one of the world's finest basses, the E09 M is the most affordable in the Edge Line. This EO9 M has a 34-inch maple neck with rosewood fretboard, abalone dot inlays and a mahogany finish.
Check out some reviews of the Dean E09M Edge Bass Guitar here.