Dean Vendetta XM Solid Body Electric Guitar, Mahogany Finish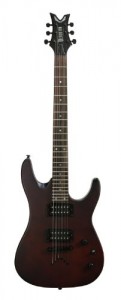 ---
Get The Best Deal
See Special Price
$222.50
---
The Dean Vendetta XM offers the budget-conscious guitar player a solid Vendetta option, with a bolt-on neck, a pair of Dean humbuckers, Dean diecast tuning machines, and a Tune-o-Matic bridge.
Vendetta XM at a Glance
Body wood: Mahogany Neck Construction: Bolt-on Neck wood: Maple Fretboard: Rosewood Inlays: Dot Frets: 24 Scale: 25.5″ Bridge: Tune-o-Matic Pickups: Dean Humbuckers Controls: Volume, Tone, Three-way Switch Tuners: Dean Diecast Hardware: Black Finish: Natural
Tune-o-Matic bridge with V-shaped ferrule pattern, Dean humbuckers.
Dean diecast tuners.
The Dean Vendetta Series
With four models to choose from, the Vendettas have string-through-body design, classic Dean V Ferrule pattern, dual Humbuckers, a 25.5-inch scale, and solid mahogany bodies with a maple neck. The Vendetta 1.0 and 2.0 are bolt-on models with black hardware. The 2.0 model features a solid flame maple top. The Vendetta 3.0 and 4.0 sport neck-through construction with the Pearl Evil Eye inlay running the length of the fretboard. The 4.0 version has a beautiful quilted maple top and is available in an all too popular "Tiger Eye" finish.
Paulownia Body
Paulownia is an increasingly popular substitute for mahogany in more affordable guitar models. It's a fast-growing, hearty tree native to Japan and Southeast Asia, and has traditionally been used for Asian string instruments.
As a lightweight, porous body wood, Paulownia is somewhat similar to swamp ash in its sonic signature: very resonant, with plenty of chime and a nice, tight low-end.
Bolt-On Construction
The Vendetta XM uses bolt-on construction, an affordable alternative to set-neck or thru-body designs. The advantage of this design is that if you do have any neck trouble down the line, you can easily replace it.
The maple neck features an ultra-playable 24-fret rosewood fingerboard, with classic dot inlays.
Dean Humbucker Pickups
To capture the biting tones of vintage Deans, the company includes two humbuckers. These pickups should provide more than enough bite for modern styles, along with plenty of low-end and midrange definition. The standard three-way selector allows bridge, neck, or a combination, and volume and tone controls are provided.
Dean Diecast Tuners
Dean's sealed diecast tuners offer solid tuning and mechanics, for a long lifetime of dependable performance.
Tune-o-Matic Bridge
A Tune-o-Matic bridge with string-thru body design provides even more sustain, along with precise intonation for your tuning preference. The classic v-shaped ferrule pattern adds some nice vintage Dean style.
Paulownia body with natural finish and bolt-on construction