Gibson SG Special Electric Guitar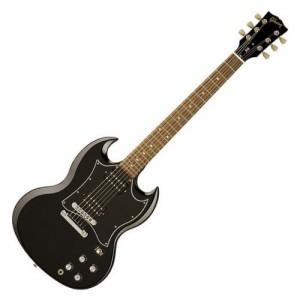 ---
Get The Best Deal
See Special Price
$1,655.00
---
Packing the same power and intensity as the SG Standard, but without all the trimmings, the SG Special has retained the heart and soul of the SG. The solid mahogany body and '50s rounded neck profile and combined it with dot inlays, silk-screened logo, a pair of Gibson's hot 490 humbuckers all wrapped up in a deluxe gig bag. Powerful, intense, and affordable 6-string electric guitar with a solid mahogany body and '50s rounded neck profile.
Probably the most central of all the SG Special's features is its solid, lightweight and strong mahogany body with a thick, warm tone. The mahogany goes through the same rigorous selection process as all of Gibson's woods, and is personally inspected and qualified by Gibson's team of skilled wood experts before it enters the Gibson factories.
This guitar also features a nitrocellulose finish–one of the most labor-intensive elements of the guitar-making process–which dries to a much thinner coat than a polyurethane finish, meaning there is less interference with the natural vibration of the instrument, allowing for a purer tone. A nitro finish is also a softer finish, which makes it easily repairable. You can touch up a scratch or ding on a nitro finish, but you can't do the same on a poly finish. In addition, a nitro finish is very porous in nature, and actually gets thinner over time. It does not "seal" wood in an airtight shell–as a poly finish does–and allows the wood to breathe and age properly resulting in more longevity in your instrument.